The guide talks in detail about 'Trade Up Contracts' from the bare basics to in-depth details, we have tried my best to explain 'Trade Up Contracts', it's benefits and limitations. The article has been drafted to aid anyone without any prior knowledge about 'Trade Up Contracts' can completely understand it and even for those who know about 'Trade Up Contracts'. This guide covers a few advanced concepts as well. So stick around and give us your feedback on the same.
What is the Trade Up Contract?
The easiest explanation of what a trade up contract is given by Valve
Here identical quality refers to the weapons-grade which the item belongs to. So if you have 10 Classified weapon skins, you can use a Trade-Up Contract to get a weapon skin of Covert Grade.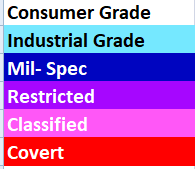 Limitations of Trade-Up Contracts
So now that you know what a 'Trade-Up Contract' is. It is time to learn about the limitations of the 'Trade-Up Contract' before we proceed further with the guide.
You cannot do trade-ups with Covert Grade skins, as it is the highest quality
You cannot get a knife as an outcome from a Trade-Up Contract
Souvenir skins, stickers, etc. also cannot be used for Trade-Up Contract
To perform StatTrak trade-ups, you need 10 Statrak skins, you cannot mix normal skins with Statrak skins
What determines the outcome of a Trade Up Contract?
The outcomes of a 'Trade-Up Contract' are directly related to what skins go into the Trade-Up Contract: their float values, which skin collection the input skins belong to, etc. In this section, we will explain what factors affect the outcome of a trade-up.
Float Value of the Outcome
Every CSGO skin has a float value, skins are also categorized based on their float values.
| Condition (Worst to Best) | Float Range |
| --- | --- |
| Battle Scarred | 0.45-1.00 |
| Well Worn | 0.38-0.45 |
| Field Tested | 0.15-0.38 |
| Minimal Wear | 0.07-0.15 |
| Factory New | 0.00-0.07 |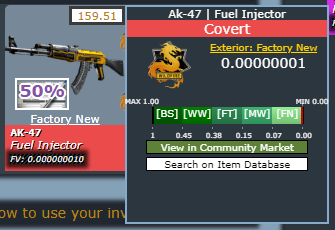 If the outcome you want has the normal Float Range (between 0-1). To get a Factory new version you only need to keep the average Float Values of the input skins less than 0.07. It doesn't matter if you use 10 factory new skins or a combination of factory new and minimal wear skins.
Not all skins have the normal float range (between 0-1). Some skins can have a Float Range with minimum Float Value above 0 or the maximum Float Value below 1 or both. So for skins of this type, there is a formula we need to use in order to calculate the average Float Value that one must maintain for the 10 input skins required to get a factory new version. The formula is:

Where,
Desired Float Value = Float Value of the outcome if you want a factory new skin (use 0.07)
Minimum Float Value = Minimum possible Float Value
Maximum Float Value = Maximum possible Float Value
So let's take an example, where we are expecting to get a Factory New AK-47 Asiimov from the 'Trade-Up Contract'. What should be the average Float Value we need to have for the 10 input skins? The float value range for AK-47 Asiimov is 0.05-0.7.
Maximum Float Value = 0.7
Minimum Float Value = 0.05
Desired Float Value = 0.07
Putting the values into the formula we get 0.030769, so to get a factory new AK-47 Asiimov we need to maintain the average Float Value of the input skins less than 0.030769. So this all you need to know about the Float Values. Now, lets jump to Outcomes.
Outcomes
Now maintaining the average float value is one thing, but there's still a risk that you would not get the desired outcome, since there's always a chance of getting a skin that you do not want. Therefore, before going ahead with a trade-up, make sure to visit csgofloat.com, the site allows you to see all types of skins, test different types of trade up contracts. Once you know that you have a decent enough chance to get the outcome you always wanted, go ahead with the trade up.
So let's take an example of a trade-up for M4A4 Neo-Noir (Clutch Collection). In this trade-up example, we have only taken skins from the clutch collection, we have not mixed skins from any other collection, we will cover mixing and manipulating outcomes in the latter part of this article.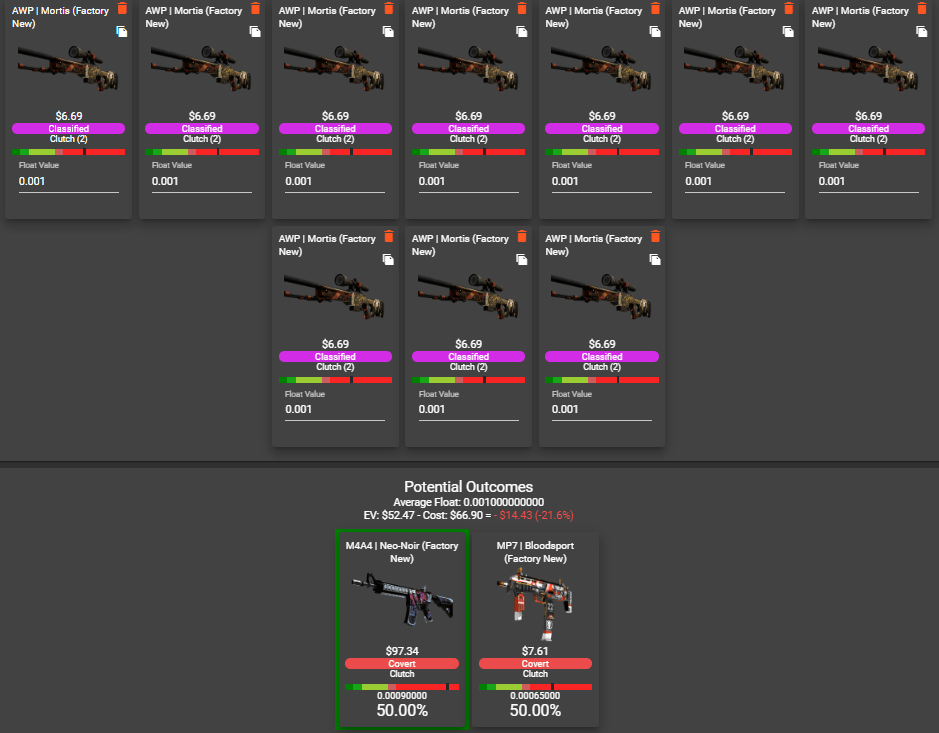 So as you can see in this trade up, we have taken 10 AWP Mortis from the clutch collection, which gives up a 0.5 probability of giving us M4A4 Neo-Noir (good profit), and a 50% of probability for getting MP7 Bloodsport (significant loss). A good trade-up is one where the input cost is as less as possible, and the loss is not huge. A better trade up for the same M4A4 Neo-Noir would be to use AUG Stymphalian which costs less than AWP Mortis, so the potential loss will be less. The new trade-up increases the value by reducing the loss.
But still both trade ups are loss making, with Expected Value - Cost being Negative. With Expected Value being:-
[(Probability of Outcome 1)*(Price of Outcome 1) + (Probability of Outcome 2)*(Price of outcome 2)]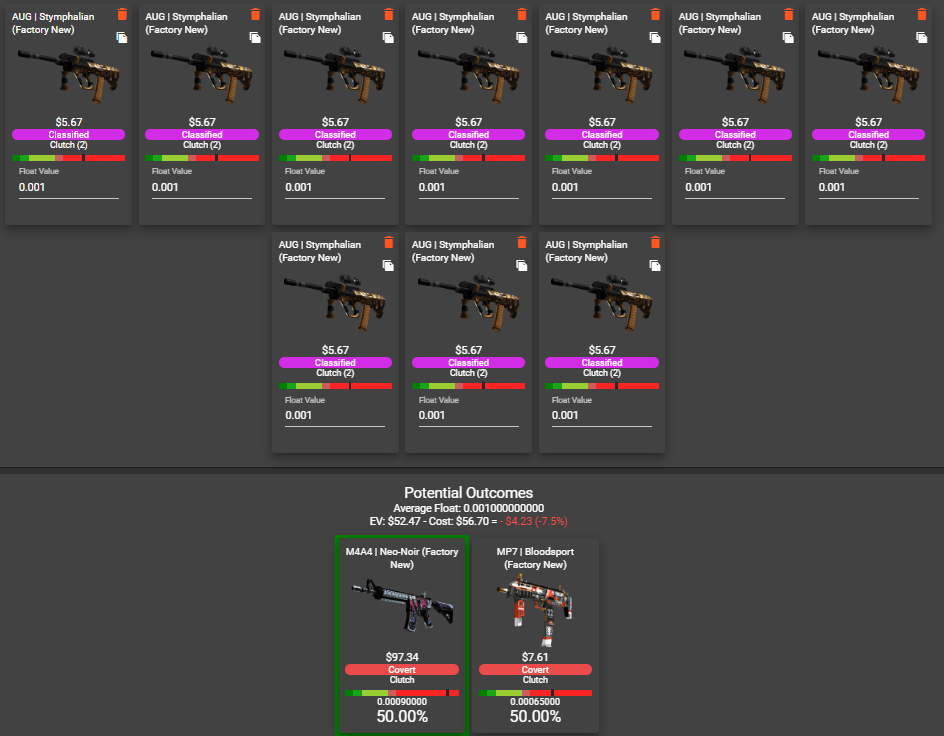 So even though the second trade-up is better compared to the first trade-up, it still has an overall negative value. We should never go for such trade-ups. To profit, we should always choose tradeups where Expected Value - Cost is positive.
Mixing Skins to manipulate outcomes
Adding skins of different collections to a trade-up will also increase the number of potential outcomes, using skins from different collections can also make your trade-up a profitable one. As you can see we have added 3 R8 revolvers (Skull Crusher), to our previous trade up, and now it looks like a good trade up. A thing to notice here is that the number of outcomes has also increased. Mixing should be done in such a way that the number of outcomes doesn't increase much. 4 possible outcomes doesn't mean there's a 25% probability.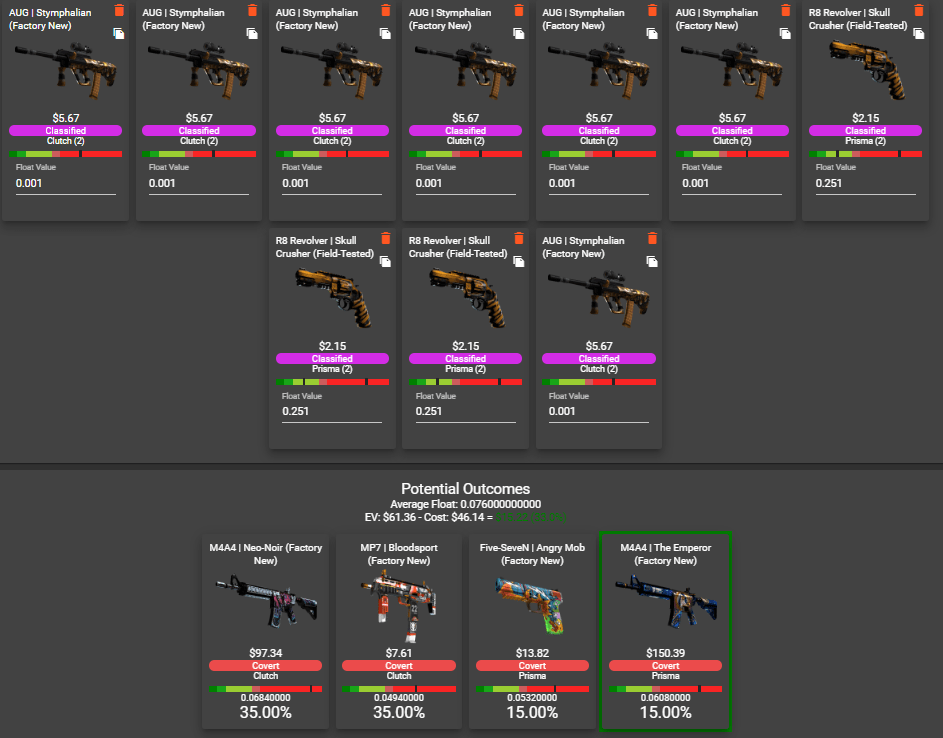 In this trade up you can see, 5 skins from Gamma Collection and 5 skins from the Dust 2 collection, now you might assume there's a 50% probability of you getting a skin from the Gamma Collection, but that's not the case, in fact it's just 25%, because when you mix, number of outcomes also rise depending on the collection you add. If there are 3 possible outcomes in a collection for the next grade, and only one possible outcome in the other collection, there will be 4 outcomes in total. This is the property of tradeups which you can exploit.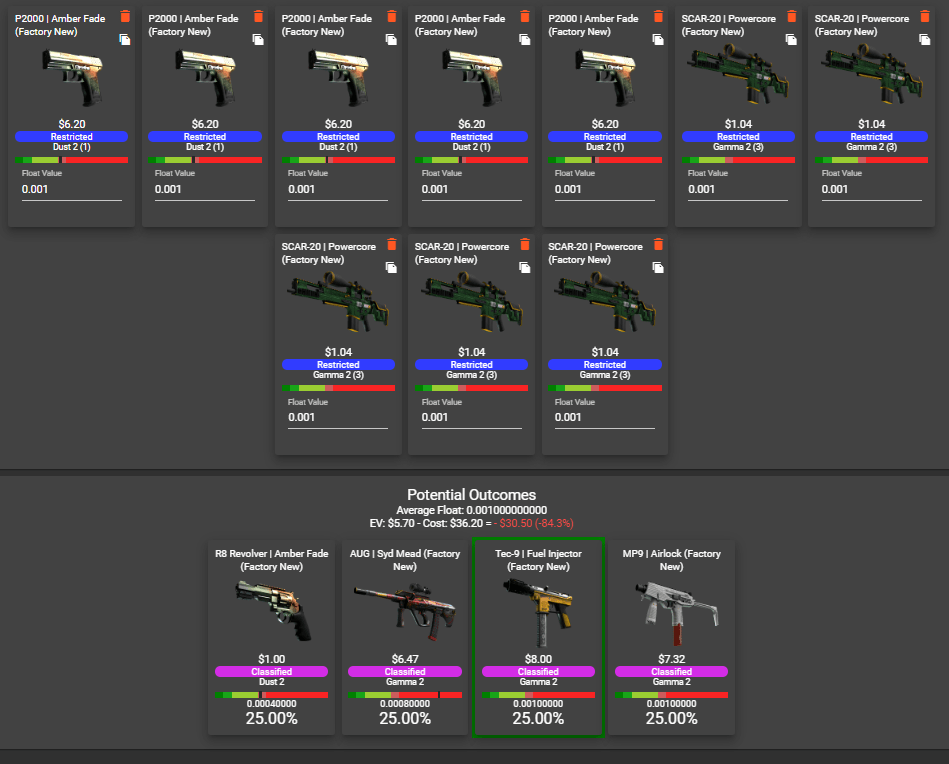 So now we have covered all the major concepts relating to trade-ups, so now how can we find good and profitable trade-ups? Well, there are many places but I think TDM Heyzeus on Youtube is something which you can look up to, to find trade-ups, he makes videos for both cheap and profitable tradeups as well as expensive ones.
DISCLAIMER: Tradeups involve a considerable amount of risk, even if you have had a favourable setup, there is always a risk of having a loss-making outcome. Do a good amount of research, make sure to check the float values of the input items, and do all your trade-ups by accepting the risk you are going to take. We are not responsible for any profit or loss you incur due to trade-ups. The trade-ups shown in this article are just for example, and shall not be treated as advice.