CSGO today received a major update, the Kreig finally got nerfed after a long pending demand from the community, not just the Kreig but many other weapons have seen changes, which include the PP Bizon, Tec 9, Deagle, M4A1s, AUG. The update not only includes changes to the weapons, but also changes in the Active Duty map pool, minor changes to some of the existing maps, and some other changes.
Weapon Updates
Many pro players have been advocating for the Krieg nerf, can take a moment of relief now, because Valve has finally nerfed it, by reducing the fire rate, and accuracy for the weapon. Credits for the update go to Niko or Valve is a matter of debate.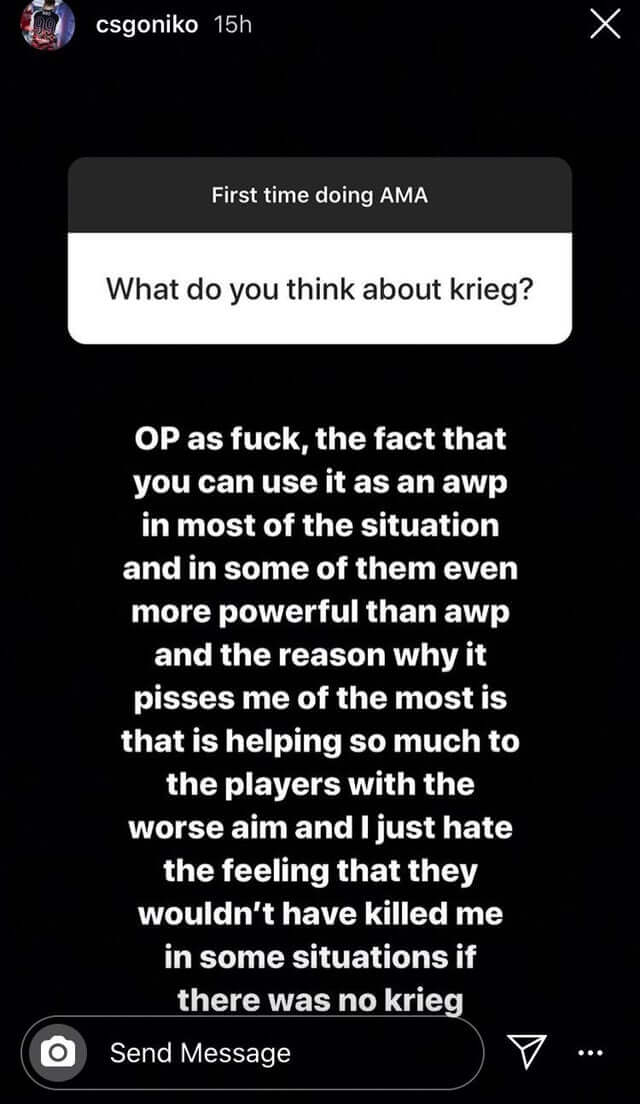 Other weapons have also received changes, the ones I want to focus more on are the Buffs to PP Bizon and Tec 9, both the weapons, were not being used much by players, as they seemed useless. The PP bizon can now be a good option alongside other SMG's especially MAC 10 on the CT side, due to increased armor penetration in the new update, and not just CT side, PP Bizon has 64 bullets before you need to reload it, so don't forget the B rush which most of us will be doing with this after this update.
Tec 9 has also received a much-needed buff because it was way too inaccurate to be used, the firing inaccuracy has thus been reduced. Tec 9 was a weapon which was completely ignored by players to use in-game, so now after this update it will be interesting to see how Tec 9 works out in half buy rounds.
The price of the M4A1-S has been reduced to $2900, which makes it a good option available for the CT's, to try out the much less used rifle, and might be used in Force buys. In fact the M4A4 now does not seem to be a rifle which you should use in-game given the extra $200 for 5 extra bullets when you can get M4A1-S with silencer and better accuracy.
Deagle has also received some changes, the accuracy has improved for the weapon while jumping, now it would take less time to recover accuracy after every jump. The change has been drastic, and Deagle might become a new favorite among players, this update might be great, but we need 128 tick servers for crisp clean "ONE DEAGS".
While the Aug has increased a somewhat neutral update, the accuracy for the Aug has been increased while unscoped and has been reduced a little while scoped, the effect of which will be determined in-game.
Changes to Maps
Anubis is a community created map designed by Roald, jakuza and jd40. The Egyptian styled new map has been removed from the scrimmage mode and has been added to the Active Duty pool, so now you guys can enjoy ranked matchmaking on the new map, which in my opinion is must try, it's a great map, and who knows might get added to the competitive pool in the future. Does the map have any chance to move to the competitive pool? Do let us know what you guys think about this map.
Minor Changes in Mirage and Inferno
A minor update has been done with Mirage, now you cannot see under the truck on B site. So, now you can peacefully hide there, without thinking of being seen from the other side.
In Inferno, the wall from door to A site balcony can now be used for wall bangs, in the language of Valve it's now "bingelibangable". There have been some changes to Overpass, Office, and Chlorine also.
New Launch Options
A new launch option has been added to the game -noubershader, for users with old intel processors to have their frame rates increased, I tried this personally on my PC, and instead of increasing the frame rate, a significant drop in frame rate was seen, maybe because I have a good new PC, so only use this if you have a wooden PC.
It looks like Valve has finally started caring about CSGO after the announcement of Valorant, and maybe some more big changes are soon to follow. The full patch notes are listed below. So these were some of the major things in the new update, you can go through the complete patch notes below:-
Release Notes for 4/10/2020
[ WEAPONS ]
– SG553 – Reduced rate of fire and accuracy to bring the weapon's value to be more in line with other rifles.
– AUG – Improved standing accuracy while unscoped. Slightly reduced scoped accuracy.
– M4A1-S – Price reduced to $2900.
– Deagle – Improved accuracy while jumping, lowering the time to recover accuracy after the player lands.
– Tec-9 – Reduced firing inaccuracy.
– Bizon – Increased armor penetration.
[ MISC ]
– Compressed several textures for less memory consumption.
– Silenced auto-vocalizations by bots during warmup.
– Removed 'Guardian' from "Looking to Play' tab.
– Added a launch option -noubershader. Users on very old Intel hardware can set this launch option to improve their framerate. This option is not recommended otherwise as it is likely to cause stuttering on the overwhelming majority of GPUs.
[ MAPS ]
– Anubis:
— Moved from Scrimmage to Competitive mode.
— Fixed water reflection issues.
— Fixed all reports regarding clipping and unintended boost spots.
— Improved performance.
– Inferno:
— Wall by door to A site balcony is bingelibangable.
— Tweaked HDR settings.
– Office:
(Changes based on pro player feedback)
— Snow has accumulated by dumpster in back courtyard.
— Beverage machines have been restocked.
— Office is now a non-smoking environment.
— Tidied up kitchen break room.
– Overpass:
— New collision model on dumpsters found around the map.
— Fixed pixel boost #151 in water by B site.
— Revised world lighting.
— Reworked bombsite A backdrop.
– Chlorine:
— Changed environment light to brighter shades
— Changed default CT player model to FBI
— Added plywood on B bombsite for better visibility
— Removed water puddles to avoid players being seen in smoke
— Fixed areaportal on squeaky door
— Added grenade clip on yellow tarp
— Included missing material for glowy eyes
— Fixed clipping issue near crazy river
— Fixed few bombstuck spots
– Mirage:
— Fixed some clipping issues.
— Blocked vis under truck on B site.