Valorant is getting popular day by day, and it has indeed caused a huge disruption in other games, with many players who have been playing titles like CS:GO, Overwatch, Apex, Six Siege for years switching to Valorant. Making a transition from one FPS to another FPS is not always easy, main obstacles include adapting to the changing environment, learning the mechanics of the new game, and the most important of all getting your Aim on point, where mouse sensitivity plays a vital role, finding the perfect sensitivity which suits you in the game might turn out be a time-consuming task, but we have got your back.
The following table should make things easier for you:-
| | |
| --- | --- |
| Games | Sensitivity for Valorant |
| CSGO | Your CSGO Sensi/3.1818 |
| Apex Legends | Apex Sensi/3.1818 |
| Overwatch | Overwatch Sensi/10.6 |
| COD Warzone | Warzone Sensi/10.6 |
| Destiny 2 | Destiny2 Sensi/10.6 |
| Rainbow Six Siege | Siege Sensi/12.11 |
For players coming from Rainbow Six Siege, since there are 2 types of sensitivities in your game, (Vertical and Horizontal), you need to do the following:-
Divide your Vertical Sensitivity by 12.11
Divide your Horizontal Sensitivity by 12.11
Your Valorant Sensitivity will be somewhere between the two values you get by dividing your Vertical and Horizontal Sensitivities.
Let's take an example:-
My Horizontal Sensitivity is 45, and Vertical Sensitivity is 37
Dividing both by 12.11 I get 3.715 and 3.055 respectively
So you sensitivity should be around 3.4 in Valorant.
You can also use this online calculator, where you just need to input your sensitivity in the games mentioned above, and you will get your Valorant Sensitivity.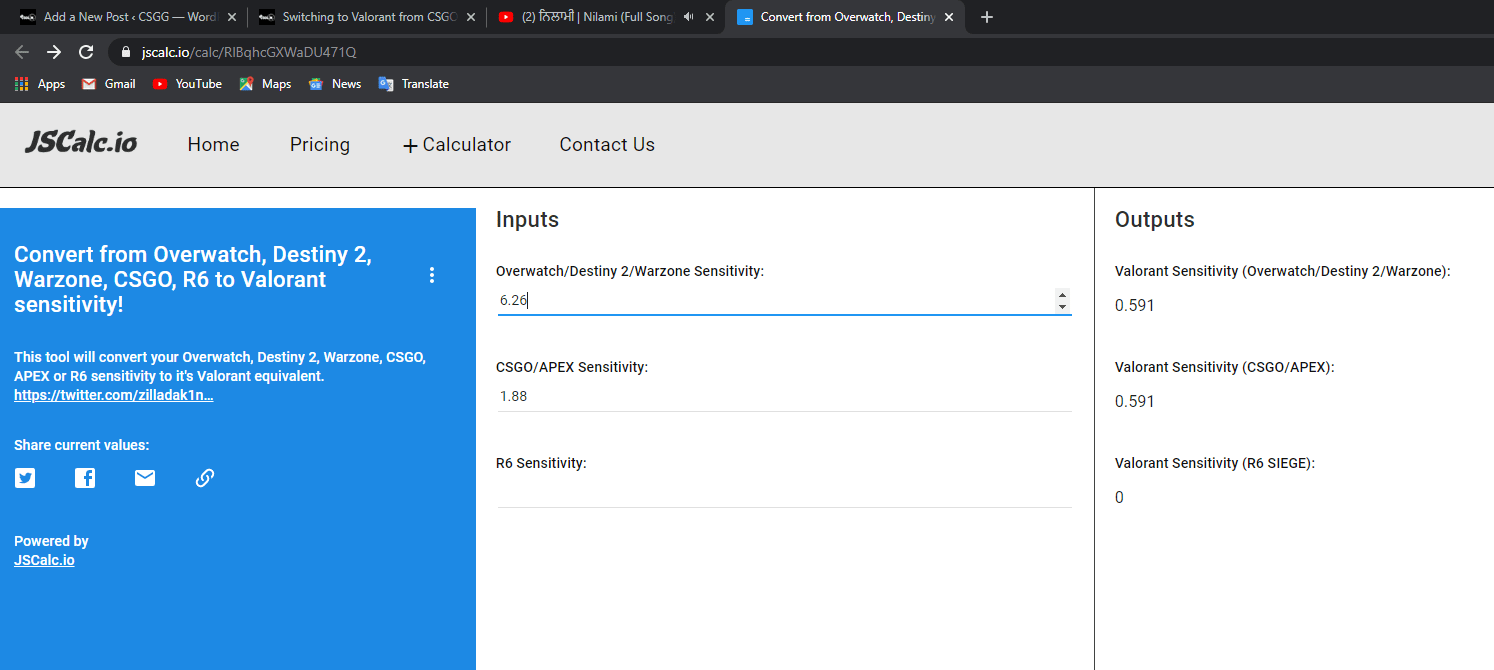 So hope this guide helps you, which sensitivity are you using in Valorant? Do let us know in the comments.